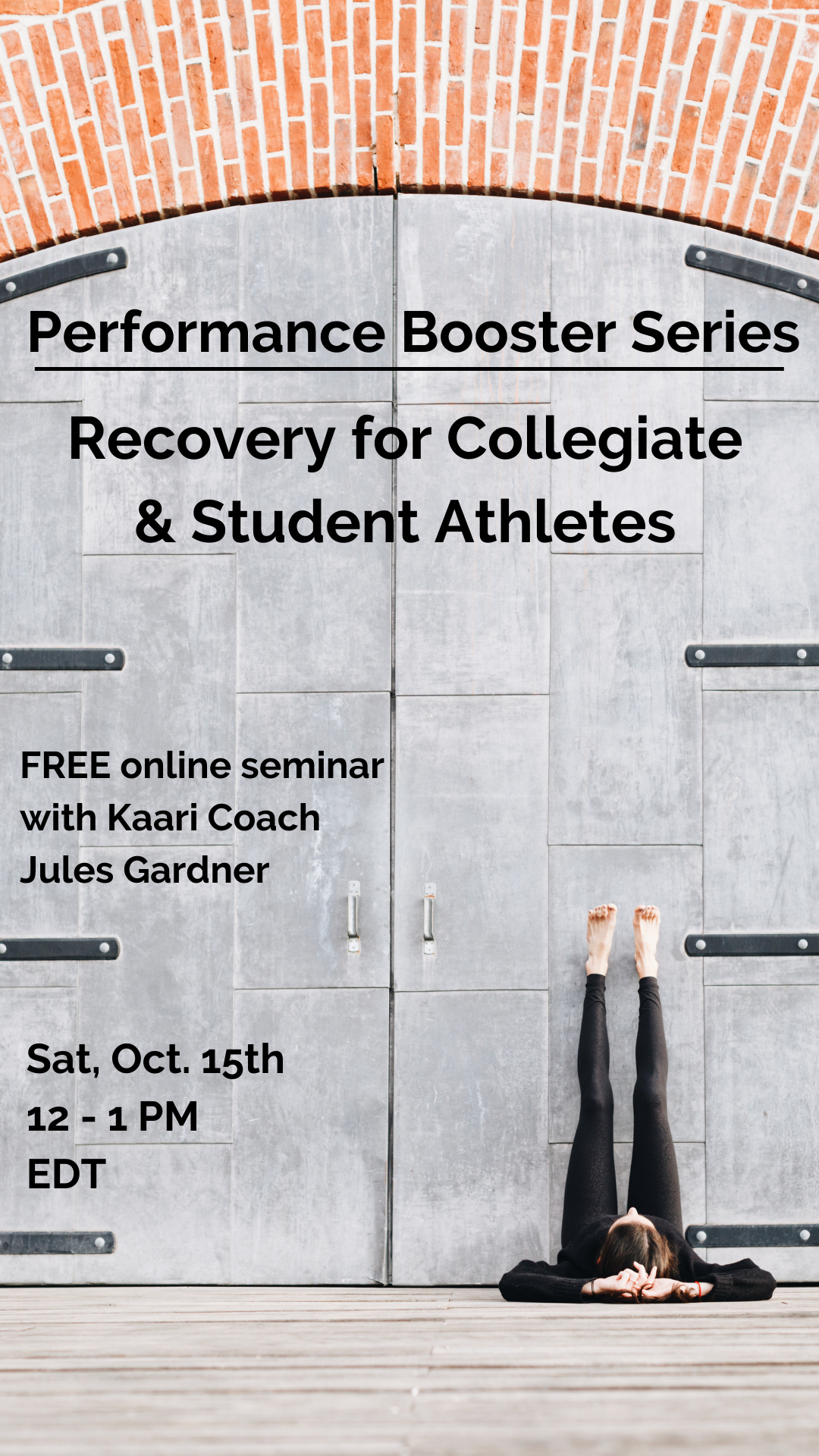 Being a collegiate athlete is demanding on multiple levels. How can you best support your recovery and enhance your athletic performance?

Collegiate athletes work incredibly hard under daily and seasonal demands. Between academics and training, it can be difficult to fit in the appropriate recovery to ensure long term well-being and avoid burnout. This session is designed for athletes, parents and coaches, and anyone working with collegiate athletes to empower themselves with self-care techniques to support solid performance across the board.
Learning how to enhance the recovery process can improve athletic performance, creating an edge over the competition, as well as equipping athletes with the mental resilience to deal with the stressors of daily life.
Join Kaari Coach, Jules Gardner (RYT, Certified Mindfulness Meditation teacher and experienced D1 Athlete and Coach) to:
Identify the core challenges facing high-level athletes
Learn effective ways to recover
Understand ways to encourage the "re-wiring" of the brain to support effective rest and recovery
Learn how to regulate the nervous system to reduce stress, improve sleep, enhance overall performance, and aid in injury recovery and prevention
This one hour session will include an introductory overview, a practice, and time for Q&A.
If you'd like to participate in the practice portion of the seminar, please have the following tools on hand:
Large pillow or yoga bolster
1-2 yoga blocks (optional)
You are of course welcome to observe if you prefer.
We're excited to have you join us for this seminar! If you cannot make the live session, but would like to have access to the seminar, please register here. We will email a recording to everyone signed-up for the session later that day.
Photo credit: Julie Hove Anderson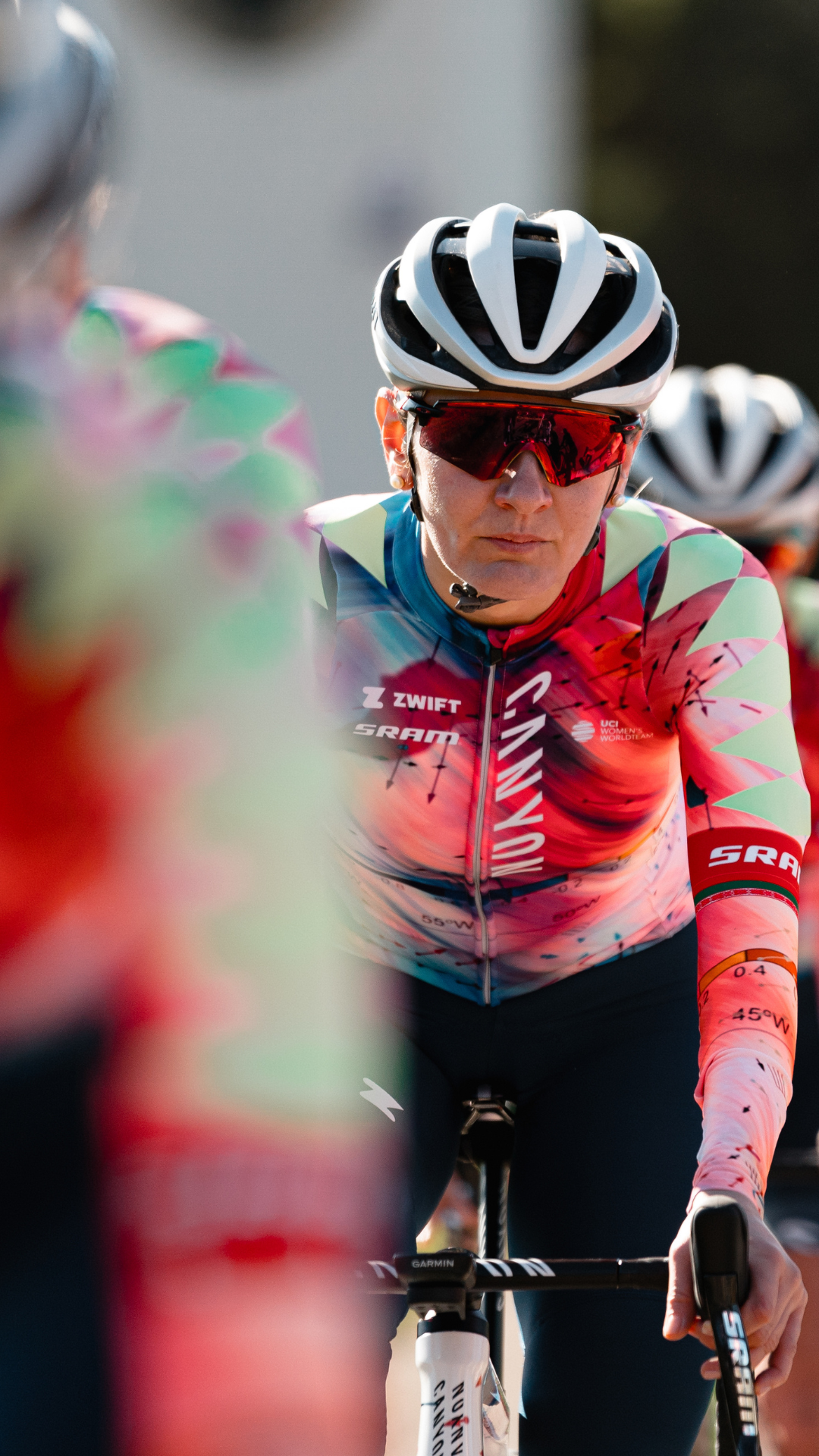 Kaari Prehab is partnering with CANYON//SRAM Women's Racing Team!
We are beyond excited to announce our newest partnership!
Kaari Prehab is partnering with the CANYON//SRAM Women's Cycling Team. We are providing customized programming to support this elite team with their mobility and recovery. With fifteen riders from eleven different countries, CANYON//SRAM Racing is the home of a diverse group of highly ambitious women who are willing to invest in their future and the future of cycling by breaking new grounds and constantly challenging themselves and their competitors.
Kaari Coach, Sharon Iacono, is in charge of program design to support this team of elite women cyclists, both on and off season. Sharon explains: "Our primary focus is recovery; however, cross-training is also a key part of building resilience on and off the bike. Therefore, we've included strength training and mobility in all of the team's support programs. The main points are core strength, cross-body connection and posterior chain function. As a cyclist myself, I am familiar with the strains being in the saddle can put on the body, so my goal is to provide a constantly evolving program to support the riders' needs in every way." 
We are pumped to provide this awesome team with our personalized and innovative programming - helping the riders to train and perform their best, supporting them all the way to the podium  Feel free to follow the team over on Instagram: they just finished competing in Le Tour De France Femmes, where CANYON// SRAM rider Kasia Niewiadoma took third place in the general classification! CANYON// SRAM also won the team classification by a phenomenal 14 minutes and 19 seconds!

Photo by Thomas Maheux, rider Alena Amialiusik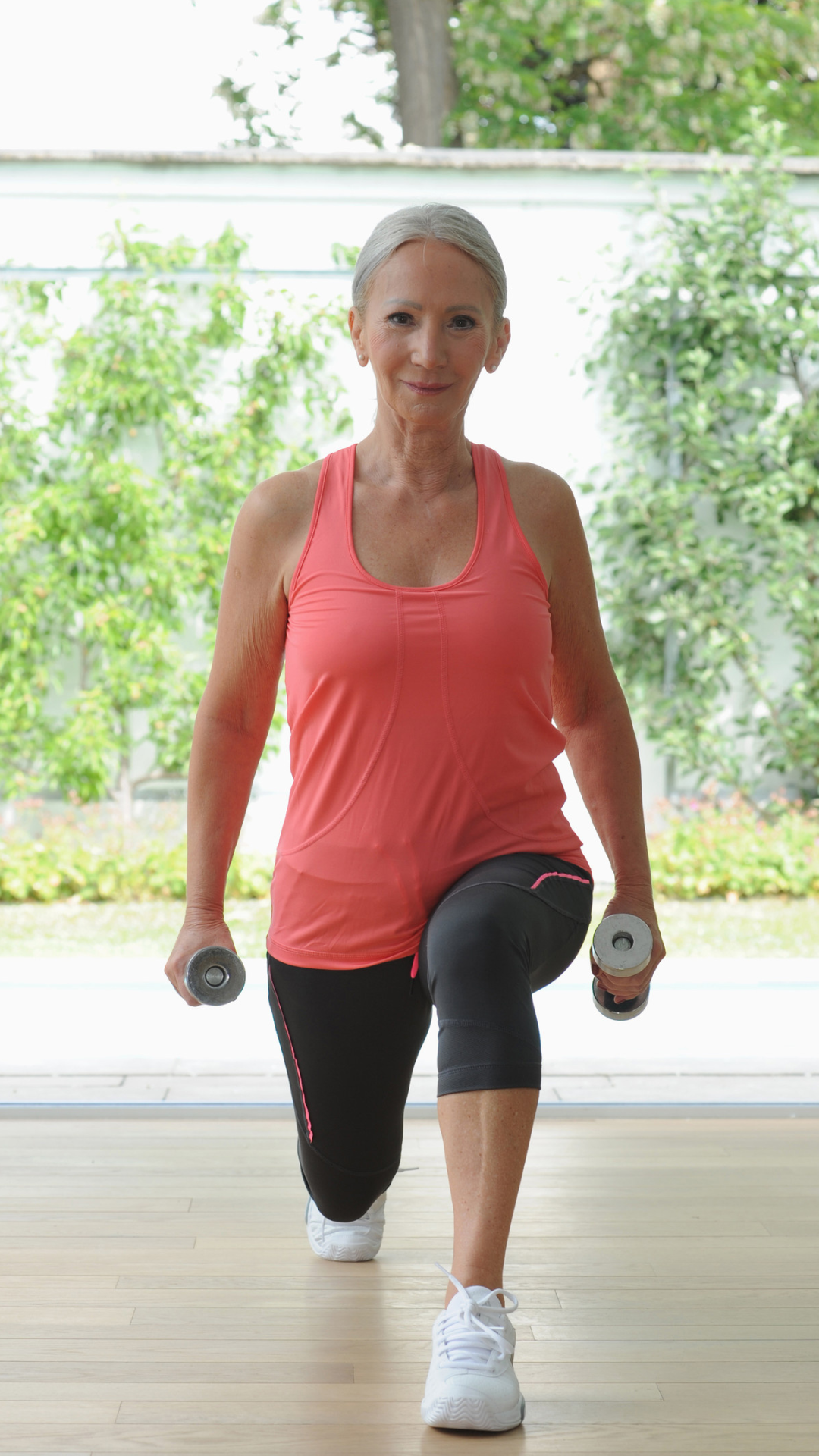 Strength Training & Yoga for Osteoporosis
Our newest program is coming soon!
Designed and led by a Physical Therapist & NASM Certified Personal Trainer

Safe & research-backed

Fully interactive & supportive
The program is:
🔶 12 weeks long
💪 includes 4 days of strength and balance training each week
🧘 1 active yoga class/week (yoga is important for improving balance, posture and managing stress which can have a negative effect on bone density)
🙂 1 day for recovery, including myofascial release and restorative yoga/mindfulness practices
All done in the comfort of your own home, on your schedule!

We're here to provide you with:
✅ Accountability ✅Consistency ✅ Safe progressions
✅ A supportive community 

We want to place the power back in YOUR hands to improve your bone density and live a life full of the activities you love! 

🌟Interested? Our pilot program group starts October 26th, and sign up is required by October 4th to participate. Please reach out to [email protected] to sign up before October 4th to reserve your spot! There are payment plans and opportunities for discounted pricing available. 

Let's move better, together! 🙌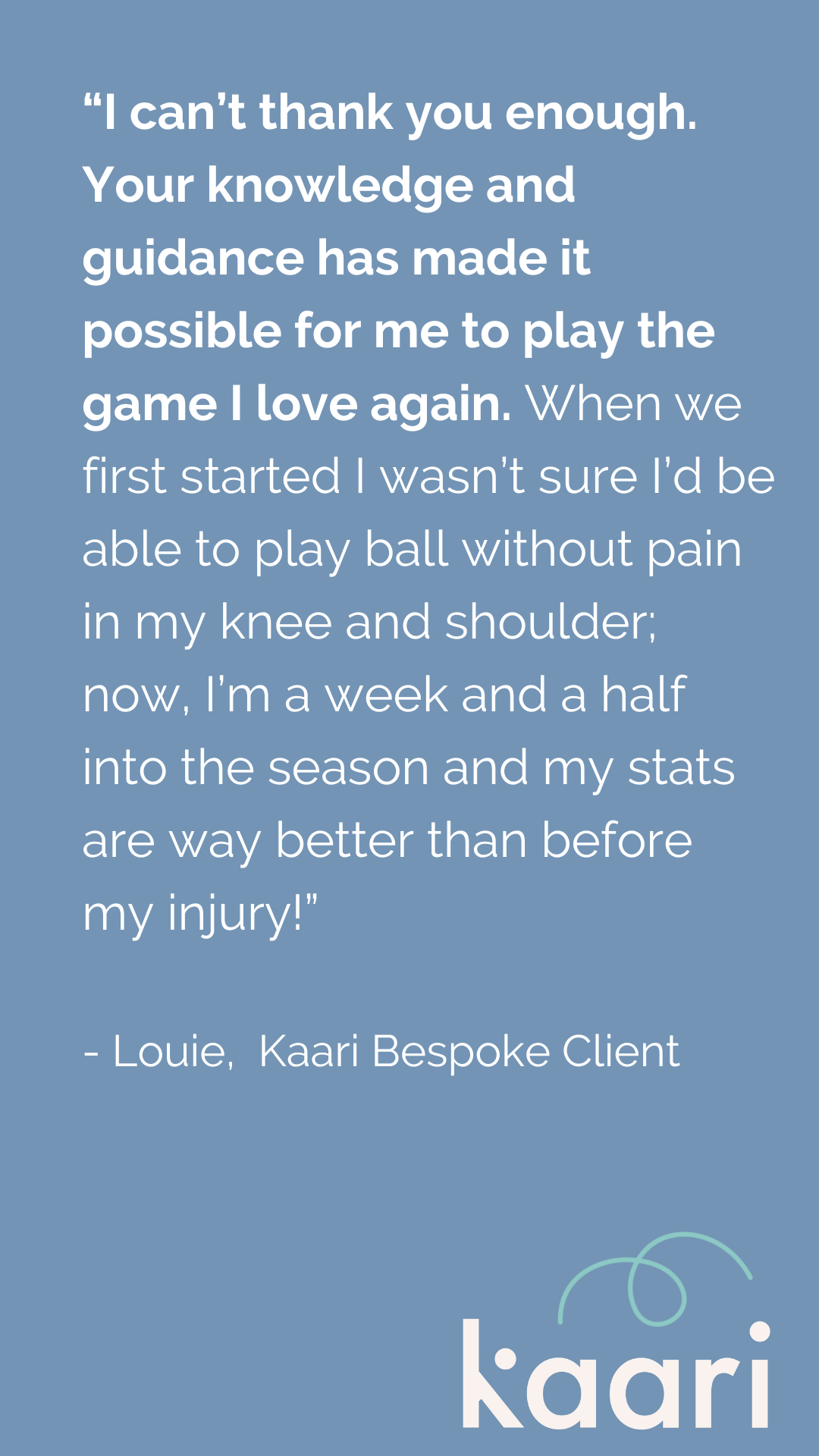 Louie: one of our recent client success stories!
Earlier this year, Louie came to us with knee pain from a meniscus tear. His goals were to get out of pain, both in his active daily life and while playing softball. He wanted to be ready to go when the season started, with a strong lower body for more power in hitting and for running.
After just a few weeks of programming, Louie was seeing significant improvement in his range of motion, especially in his injured knee.
And because we just don't focus on the "injury", but rather work with clients holistically, we also programmed some upper body and shoulder work for throwing. He made significant progress in that area as well!
His first double header stats? Well, they were nothing short of amazing. He sums it up perfectly: "I was very pleased with how I played and how great my knee held up. 5 for 6 for the day... 2 singles, 2 doubles and a triple. Ran the bases a lot and both singles I went first to third on ground balls to the outfield. Played centerfield, ran down a couple flys and threw 2 runners out at second! That's a great game for me! And all with no shoulder or knee pain!"
We couldn't be more excited for Louie! Hearing this made our day - it's exactly why we do what we do here at Kaari!
And you can imagine our excitement when he recently reached out to us to thank us again for helping him and to tell us he was nominated to represent his team playing in the All-Star Game!
Congratulations, Louie!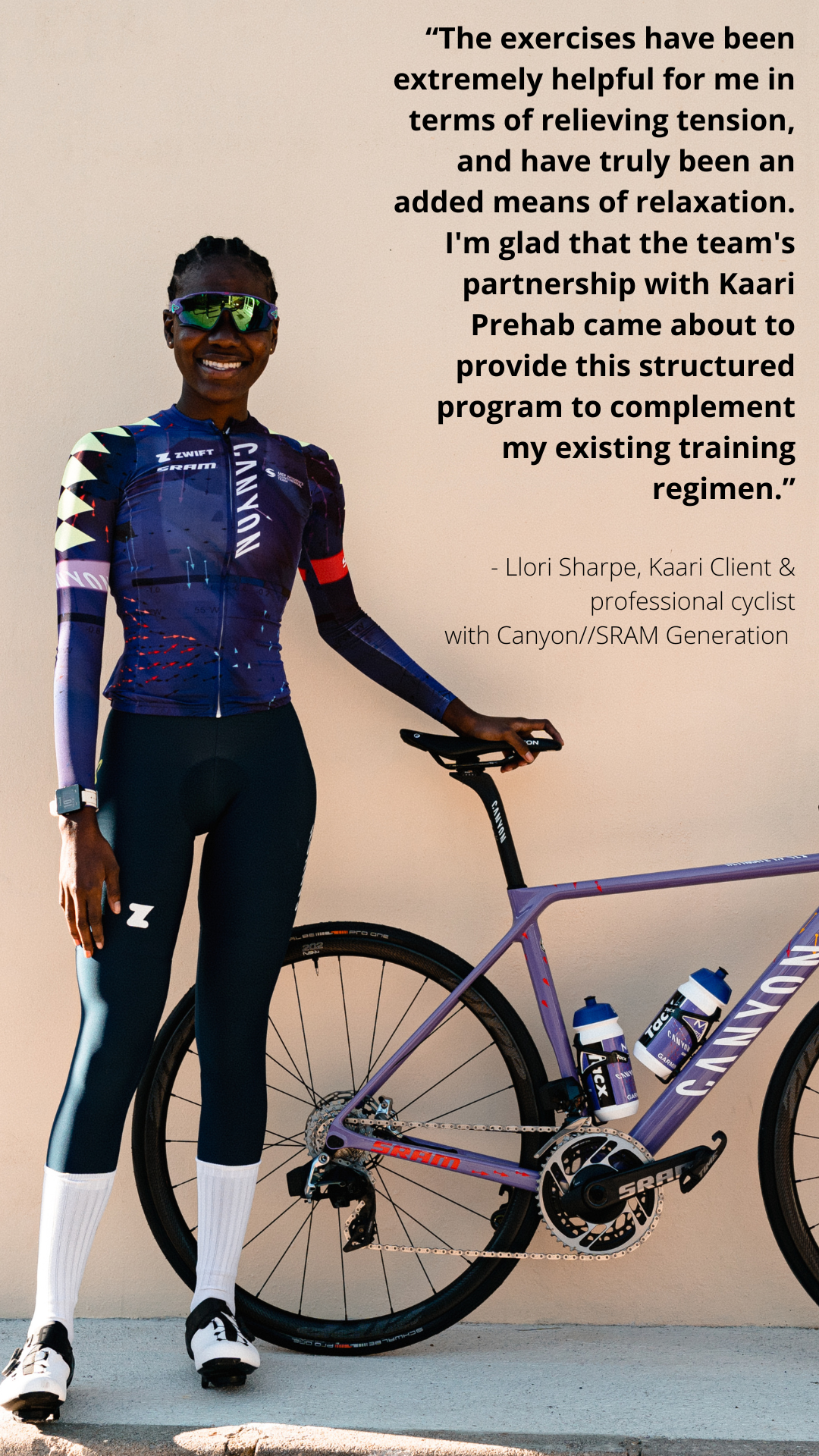 We couldn't be more proud of our professional cyclist clients at Canyon//SRAM Racing!

We love what we do here at Kaari, and we're beyond excited to help athletes make the most of their rest and recovery time. It all adds up to moving better, performing better, and feeling better- on and off the bike.

Kaari Coach, Sharon Iacono, is in charge of program design to support this amazing team of elite women cyclists, both on and off season. 

Do you or your team need help making your recovery routine, structured, intentional and sport-specific? After all, your training is planned to a T; your recovery shouldn't be an afterthought after you've put in all the hard work. Let us know how we can help YOU enhance your athletic performance by filling out our brief contact form on our Bespoke Coaching page.
Rider: Llori Sharpe